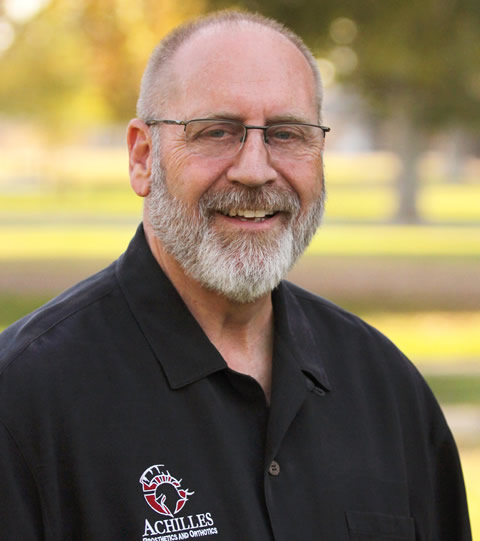 CP, Vice President, Certified Prosthetist
Daniel J. Newton, CP was born in San Gabriel, CA and grew up dreaming of becoming an artist.  For 41 years as President and CEO of Achilles Prosthetics and Orthotics, Inc. he has found an outlet for his artistic abilities providing high quality and compassionate medical care to patients in need of prosthetic and orthotic services.
In 1978, Daniel and David A. Wegner, CPO, co-founded Achilles Prosthetics and Orthotics, Inc. in Bakersfield, CA.  Two years later they expanded the business by starting a second office in Santa Maria, CA to serve the orthopedic needs of the central California coast.  Today, Achilles has added two additional clinics in Santa Barbara and Templeton, and now serves the central coast from Paso Robles to Ventura.
Daniel attended UCLA, earning a bachelor's degree in Zoology in 1975.  Inspired by a college friends' wife, who was an AK amputee, he applied and was accepted to attend the prosthetics/orthotics program at the UCLA School of Medicine.  In 1978, Daniel was certified in prosthetics by the American Board for Certification in Orthotics, Prosthetics, and Pedorthics.  Daniel is a member of ABC, AOPA, and Fellow of the American Academy of Prosthetics and Orthotics.
In addition to overseeing the strategic planning and daily operations for all of the Achilles clinics, Daniels love for children has drawn him to concentrate on pediatric orthotics, specifically for children suffering from cerebral palsy.  "It's a very humbling experience working with disabled children, but at the same time, I can think of no greater reward than helping a child gain their mobility."
Daniel, and his wife of 38 years, Sheri like the spend as much time as they can with their 3 beautiful grandchildren and on weekend art excursions to Lake Tahoe.